Linc1.html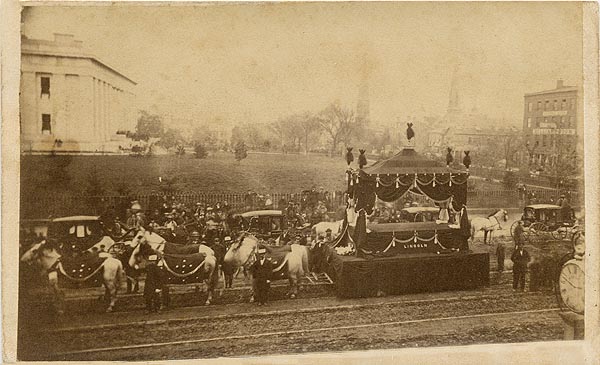 The Funeral of Abraham Lincoln at the Ohio State House
Columbus–1865
Lincoln's funeral train took him from Washington to Springfield, Illinois–following, in reverse, nearly the same route that had taken the President-elect to the White House. This carte de visite is an important document demonstrating Columbus' participation in the national rites of mourning following the stunning assassination of the President.

Although this photograph is unsigned, it was found with another view of the funeral, showing the hearses. The second view bears the imprint of "M. Witt, Photographer/81 South High Street/ Columbus." Presumably, both photographs were produced by Witt.

 

  What's that building across the street, facing the seat of Ohio's government?
  A closer look at the left side of this image…and a mystery.
---
SMALL WORLDS: The Art of the Carte de Visite
---

---

Copyright © 2002 The American Photography Museum, Inc.

American Museum of Photography and the logo are Service Marks of The American Photography Museum, Inc.