Faux Snow — An Online Exhibit of Manipulated Victorian Winter Photographs from the American Museum of Photography
| | |
| --- | --- |
| | |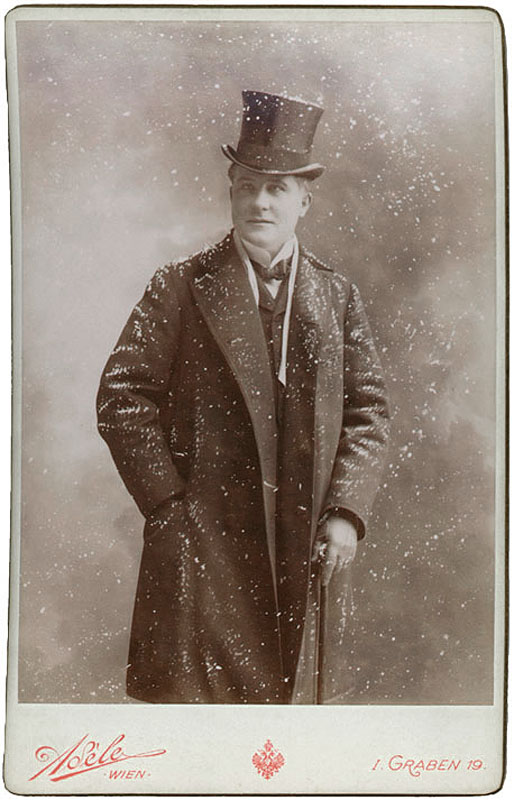 Atelier Adèle (Adèle Perlmutter-Heilperin, active Vienna, Austria after 1862)
Franz Naval in a Snowstorm

Albumen Cabinet Card, 4 x 5.6 inches, circa 1898

This dignified portrait from Vienna demonstrates that photographs with ersatz snow were not limited to North America.

The dapper gentleman in this portrait is the tenor Franz Naval (1865-1939), who made his operatic debut in Frankfurt in 1888. In 1897, he sang the role of Rodolfo in the Berlin premiere of Puccini's La Boheme. Naval performed with the Hofoper in Vienna from 1898 to1902; he was hired at the behest of Gustav Mahler but the two later had a falling-out. Naval sang with the Metropolitan Opera in New York in 1903. He was also an early recording artist.

Atelier Adele was founded in 1862. Adele Perlmutter-Heilperin co-owned the studio with her two brothers, and was described as the "Grande Dame" of the Atelier. The studio prospered and eventually opened two branches. Around 1890, the Atelier was named Photographer to the Imperial Court. Also in 1890, Frau Perlmutter-Heilperin turned over management of the studio to her brother Wilhelm.
---

For information on Atelier Adele see George Gilbert, The Illustrated Worldwide Who's Who of Jews in Photography (New York: Gilbert, 1996; ISBN 0-9656012-0-X)

---
Copyright © MMIII, MMIX The American Photography Museum, Inc. All Rights Reserved.

American Museum of Photography and the logo are Service Marks of The American Photography Museum, Inc.

Web Design: Becker Information Group, LLC