American Reflections — An Exhibition at Henry Ford Museum, Dearborn Michigan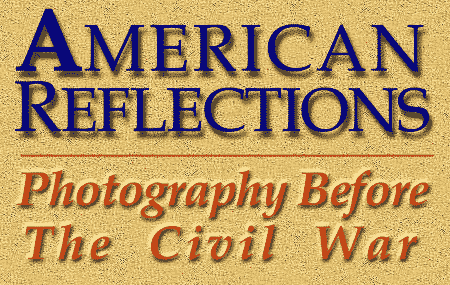 An Exhibition at Henry Ford Museum
Dearborn, Michigan
October 21 through November 15, 2000
More than 200 rare images from the earliest years of photography are on view at Henry Ford Museum in Dearborn, Michigan in AMERICAN REFLECTIONS: PHOTOGRAPHY BEFORE THE CIVIL WAR.

Drawn from two private collections and the holdings of Henry Ford Museum, many of these images of American life in the years 1840-1860 have never been shown to the public.
Daguerreotypes are photographs made directly in a camera on silvered plates of copper. Because daguerreotypes are not made with a negative, each is one-of-a-kind. The process, invented by the French artist Louis J. M. Daguerre in 1839, produces glittering, mirror-like images that are admired today for their brilliance and superb detail.
| | |
| --- | --- |
| | Work was a source of pride and an important element of self-identity to Americans during this period, as demonstrated by the "occupational" daguerreotypes in AMERICAN REFLECTIONS. In addition to this portrait of a telegrapher, the exhibition features superb images of blacksmiths, carpenters, and firefighters. Other rare examples depict female occupations and an African American peddler at work. |
| | |
| --- | --- |
| AMERICAN REFLECTIONS offers visitors a selection of rare early scenic images showing bridges, trains and businesses, and a group of daguerreotypes documenting the California Gold Rush of 1849. Another section of the exhibit includes lushly hand-tinted portraits, such as this example by Beckers & Piard of New York City. | |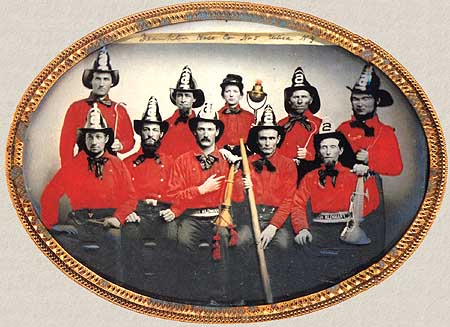 A successor process to the daguerreotype, a method of making photographs on glass known as ambrotypes, became available in 1854. AMERICAN REFLECTIONS includes a number of superb examples– such as this whole-plate ambrotype of the Franklin Hose Company of Utica, New York.
| | |
| --- | --- |
| | A surprise is in store for those who think of old photographs as stiffly-posed and crudely made, especially from such an early stage in the growth of photography. AMERICAN REFLECTIONS provides selected images showing the evolution of posing and lighting techniques, charting the first creative innovations in the art of photographic portraiture. This image of two women enjoying a chat more than 150 years ago is from a group of daguerreotypes posed to appear informal, even candid. |
| | |
| --- | --- |
| Michigan-based collectors Leonard A. Walle (shown) and Wm. B. Becker co-curated AMERICAN REFLECTIONS: PHOTOGRAPHY BEFORE THE CIVIL WAR with Cynthia Read-Miller of Henry Ford Museum. The Walle Collection and the Wm. B. Becker/American Museum of Photography Collection each loaned 100 images to the exhibition. AMERICAN REFLECTIONS will be on view when the Daguerreian Society, an international group of photography historians, meets at Henry Ford Museum in November. | |
The exhibition is a participating event of Detroit Focus 2000, a regional photography festival that brings more than 100 photographic exhibits and lectures to the public during the month of November.
AMERICAN REFLECTIONS: PHOTOGRAPHY BEFORE THE CIVIL WAR is open to the public during museum hours through November 15.
For additional information, please click here to visit the Henry Ford Museum website.
---
Copyright © 2000 The American Photography Museum, Inc.

Photographs from the Walle Collection Copyright © 2000 Leonard A. Walle. All rights reserved.