Autochrome Still-Life by Harry T. Shriver – American Museum of Photography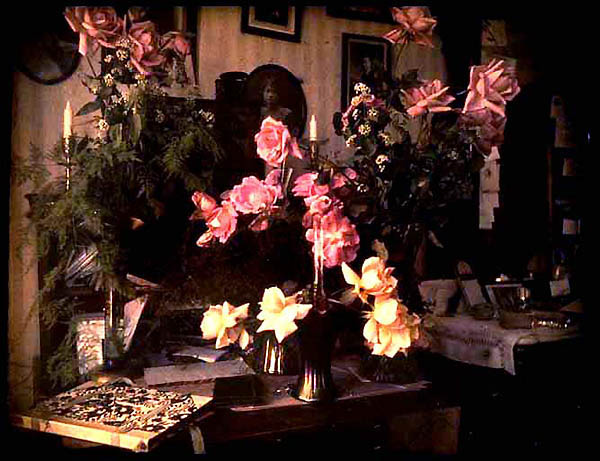 Harry T. Shriver (US, 1831-1928)

 Still Life with Art Glass

Autochrome, circa 1910. 4 x 5 inches 
The Autochrome process represented the first flowering of color photography, in both a literal and figural sense: a great many of the Autochromes that were made feature flowers as either the main subject or as a supporting player, adding color to a scene.
One reason for that is the length of time required to make a picture using an Autochrome plate. The color dots that filter the light and the fine-grain emulsion that records the image caused Autochromes to register a picture more slowly than comparable black-and-white plates of the day. Further slowing things down was a yellow-orange filter that needed to be placed in front of the camera lens to keep the image from coming out too blue; this also reduced the amount of light that made it through to the emulsion. That meant a scene taken outdoors in broad daylight could easily require a full second or more– and anything (or anyone) in the picture that moved during that time would end up as a blur. Indoor exposures, like this still life of roses, could take even longer. So flowers made an ideal subject: in addition to being colorful, they could be expected to hold still during the entire exposure.
This opulent display of roses and art objects is illuminated by strong daylight that makes it stand apart from the every-day clutter in the background. It is the work of a New York industrialist and amateur photographer named Harry T. Shriver. Mr. Shriver was likely in his eighties when he began to make Autochromes. Decades earlier, just three years after the Civil War, he was among a very small number of amateur photographers working in the US. Along the way, he became friends with a fellow amateur — a young clerk from Rochester, New York named George Eastman.
 

---

Copyright © MMVII The American Photography Museum, Inc. (Image Copyright © 1989) All Rights Reserved.

American Museum of Photography and the logo are Service Marks of The American Photography Museum, Inc.