Bisson Freres: Glacier des Bossons /The American Museum of Photography: Masterworks


---
---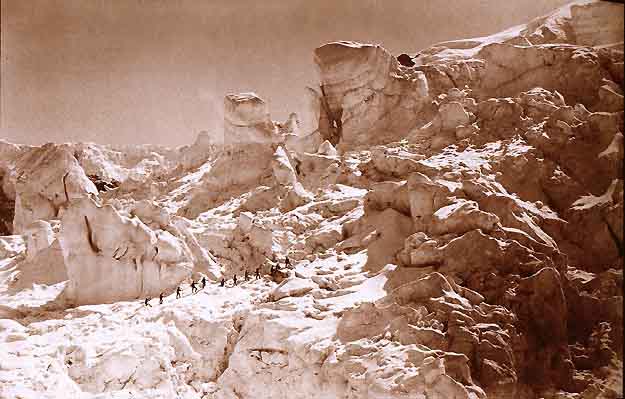 Bisson Frères (Louis-Auguste Bisson [France, 1814-1876] & Auguste-Rosalie Bisson [France, 1826-1900]): Glacier des Bossons, Savoie.

Albumen print 9.5 x 15.5 inches, circa 1860

The Bisson Brothers were among the best-known European photographers of the 1850s and 1860s. Their most famous body of work is comprised of the high-altitude photographs they made in the Alps during the climbing seasons of 1859-1862. In 1860, on the occasion of the reunion of Savoy with France, and accompanied by Napoleon III and the Empress, the Bissons went to Chamonix to attempt the ascent of Mont-Blanc. They failed to reach the summit but the large glass negatives they produced during the climb were the basis of an album of twenty-four superb Alpine views.

Despite the arduous conditions, the Bissons captured this masterful scene of an epic struggle by men intent on conquering nature–set against a magnificent landscape.

This large format print is identified by both a blindstamp ("FBF" in a circle) and an ink stamp ("Bisson frères"). It was almost certainly made prior to 1864, when the Bissons' partnership ended and Louis-Auguste retired from photography.

References: F. Guichon, Montaigne, Photographies de 1845 á 1914 ( Denoël, Paris: 1984), illustration p. 60, where this image is dated 1862; After Daguerre, Masterworks of French Photography from the Bibliothèque Nationale (The Metropolitan Museum of Art, New York: 1980); Photography's Beginnings: A Visual History (University of New Mexico Press, Albuquerque: 1990), plate 121.

 
---
Next Full-Size Image
——
Return to Gallery One
—–
Museum Home Page
---
---
,Copyright © 1999 The American Photography Museum, Inc. All Rights Reserved