"Faux Snow — An Exhibit of Manipulated Victorian Winter Photographs from the American Museum of Photography"
| | |
| --- | --- |
| | |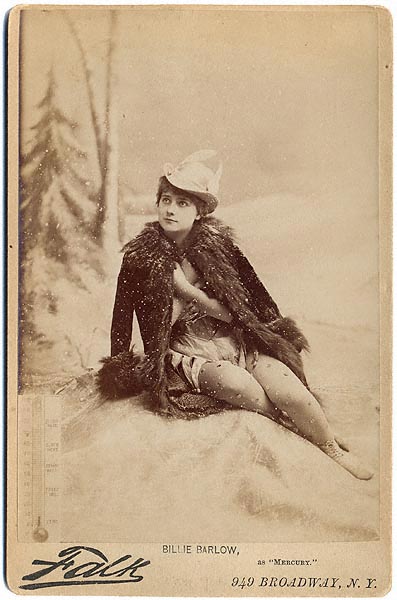 Benjamin J. Falk (New York, 1853-1925)
"Billie Barlow, as 'Mercury'"
Billie Barlow (1852-1937) is shown in a role she played in Orpheus and Eurydice, an adaptation of Offenbach's Orpheus aux Enfers that opened in December 1884 at the Bijou Opera House in New York.

Between 1878 and 1883, she was a member of the famed D'Oyle Carte Opera Company. Barlow's roles included Isabel in the American premiere of Gilbert & Sullivan's Pirates of Penzance (1879) and Fleta in the New York premiere of Iolanthe (1882). After leaving D'Oyle Carte, Barlow's career in light opera and on the music hall stage lasted into the 1920s.

The influential photography critic Sadakichi Hartmann profiled Benjamin J. Falk in 1906. He noted that Falk, although a member of the "old guard," always kept up with technical developments and changing tastes. Falk was best-known for his theatrical portraits, which were often innovative. "Already in 1881, I was in favor of rapid exposure," he told Hartmann, "I worked under the strongest light I could get. My idea was the photographer had to do it all, if he does not succeed in getting a straightforward, life-like expression, he alone is to blame for it. And for that, quick work is absolutely essential."

Here, Falk has gone for much more than a straightforward expression. In addition to the wintery background and the faux snow in the "air," he has embellished the scene with an inset thermometer, showing the temperature at a frosty 8 degrees Farenheit.
---

Copyright © MMIV The American Photography Museum, Inc. All Rights Reserved.

American Museum of Photography and the logo are Service Marks of The American Photography Museum, Inc.

Web Design: Becker Information Group, LLC