Seeing Double: Front and Back Views of a Boy in a Little Lord Fauntleroy Suit, circa 1890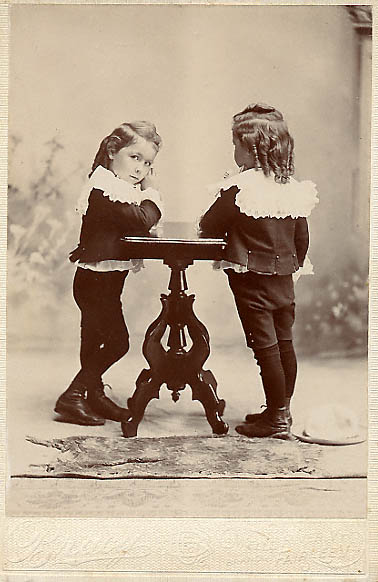 Charles F. Bracy (Wells River and Fairlee, Vermont)

Double Portrait of a Boy, from Side and Back

Cabinet card, circa 1890

Charles F. Bracy (1845-1915) was active as a photographer in New Hampshire, Massachusetts and Vermont. This card bears an embossed imprint listing his studios in Fairlee (where he worked 1889-1902) and Wells River (1883-1900.)

In this unusual application of double photography one boy is shown from both the side and the back, most likely to fully display his high-fashion hairstyle and clothing. The velvet Cavalier-style jacket and knee-britches, combined with a full lace Van Dyke collar and a frilly blouse, was called a "Fauntleroy suit." It was inspired by Little Lord Fauntleroy, a novel by the English-born American author Frances Hodgson Burnett. First published in 1886, Fauntleroy went on to sell a million copies in English and countless others in a dozen different languages. A stage adaptation , also written by Burnett, opened in 1888 and took both England and the United States by storm. Mothers everywhere made or purchased these suits for their young male offspring. They did not consider the fashion effeminate despite the girlish ringlet curls that usually accompanied the suit. Nor did it seem to concern parents that the title character of the play was usually portrayed by a young woman; however, there were occasional cases of boys sabotaging their suits and at least one report of a young man who burned down the family barn to show his sartorial displeasure.
| | |
| --- | --- |
| | |

---

More information on the Fauntleroy suit: LITTLE LORD FAUNTLEROY AND HIS DAD: The Transformation of Masculine Dress in America, 1880-1900 by Jo Barraclough Paoletti . Click on the title to link to this article in a new browser window.
Copyright © 2003 The American Photography Museum, Inc.

Photographs Copyright © 2002 The American Photography Museum, Inc. All Rights Reserved.

"American Museum of Photography" and the logo are Service Marks of The American Photography Museum, Inc.