Seeing Double: Richard Mansfield in his dual role as Dr. Jekyll and Mr. Hyde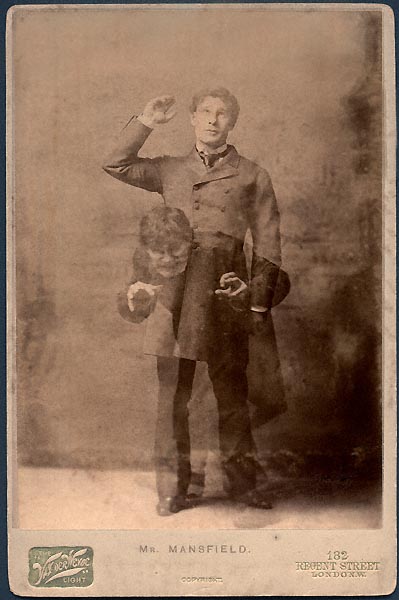 Henry Van der Weyde (1838-1924; London, England)

"Mr. Mansfield"

Albumen print cabinet card, circa 1895

 

Van der Weyde was a painter who became a professional portrait photographer. In 1892 he participated in the founding of the Linked Ring Brotherhood, a group of early modernist photographers similar to the Photo-Secession in the United States.

 

Richard Mansfield (1857-1907) was an actor and producer. He appeared in several productions of Gilbert and Sullivan operettas during stints with the D'Oyly Carte Opera Company. But Mansfield was best known for the dual role depicted in this double exposure: he starred in "The Strange Case of Dr. Jekyll and Mr. Hyde" in both New York and London. The stage adaptation opened in London in 1887, a year after the publication of the novella by Robert Louis Stevenson.

 

Mansfield's performance was of such ferocity that it was rumored he was questioned by Scotland Yard in connection with the notorious Jack the Ripper murders in 1888.

 
---

Copyright © 2003 The American Photography Museum, Inc.

Photographs Copyright © 2002 The American Photography Museum, Inc. All Rights Reserved.

"American Museum of Photography" and the logo are Service Marks of The American Photography Museum, Inc.