"Did You Ever Have A Dream Like This?" Fantasy Photographs by W. H. Martin — American Museum of Photography(SM)

"Did You Ever Have
A Dream Like This?"
---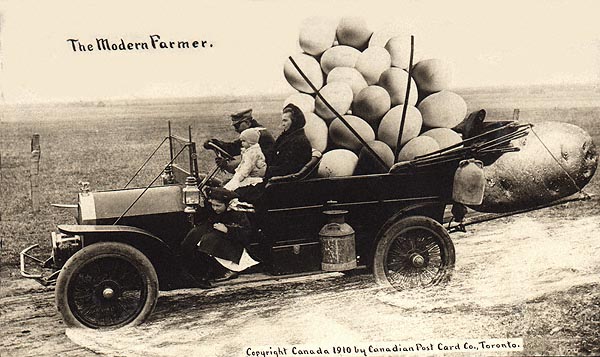 The Modern Farmer.
William H. Martin (1865-1940)
Silver Print postcard, 3.5 x 5.5 inches, 1910  

Issued in Canada by Canadian Post Card Co., Toronto

 

Starting in 1898, the U.S. government began allowing privately-printed postcards to be mailed for the same low rate of postage as cards issued by the post office: one cent. By 1902, Eastman Kodak was producing photographic paper designed for postcard use. At first, messages were allowed only on the margins around the photograph. But in 1907 that restriction ended, allowing writing in a space reserved on the address side of the card. That development helped turn the photographic postcard into a fixture of American life. It also seems to have coincided with Dad Martin's meteoric success.

 
---
<"A Dream Like This" Gallery ………………………. Next Image >
---
(Click on the logo to visit the Museum's Home Page)
 

---

---
Copyright © 2000 The American Photography Museum, Inc. All Rights Reserved.
American Museum of Photography and the logo are Service Marks of The American Photography Museum, Inc.