News… from The American Museum of Photography
| | |
| --- | --- |
| | MUSEUM NEWS |
Jump to: What's Next — Our Awards —Comments From Our Visitors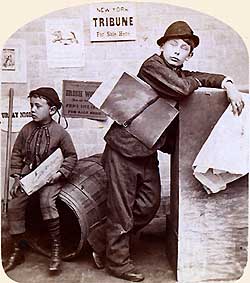 L. E. Walker (Warsaw, New York): "We-we and Bob, The newsboys." Albumen stereo view, circa 1875.
What's New?

July 2007– Join us in celebrating the 100th Anniversary of Color Photography with a major new exhibition, Autochromes: The World Goes Color-Mad. You'll discover the secret breakthrough that allowed the Lumiere Brothers of France to produce natural color photographs with an ordinary black-and-white emulsion. (Hint: it's the same key ingredient found in French fries!) Don't miss the dazzling Autochrome "Le Phonographe" by Jean-Baptiste Tournassoud — a masterpiece of early color photography. This image is being published for the first time, in a high-quality art poster.

February 2006 –The dust is cleared, the ribbon has been cut — and now you're invited to enjoy the latest addition to our virtual museum, The Hall of Special Effects. We've grouped together some of our most popular exhibits under the title Photographic Fictions: How the Camera Learned to Lie. You'll discover how and why people began to manipulate photographs… and see how clever tricks could turn an ordinary studio into the roaring, crashing waters of Niagara Falls. There are human clones created with a camera, indoor blizzards, and some still-spooky ghost photographs from a century ago. Before you leave, check out the gargantuan geese and monster ears of corn created by America's best-selling photographer, decades before King Kong hit the silver screen.

But wait — there's more! Play detective in our new interactive exhibition that features real crimes, fake photos, and an unsolved mystery. It's PULP PIX: The Bizarre Case of Photography Noir. And our book reviewers have been busy, too — there are four new titles to check out (with discounted online ordering.)

December 2004 — "Scott Mutter: A More Perfect World" is expanded with a new gallery and new images — including two photomontages never published or exhibited before. We've added new signed posters from Scott Mutter and are proud that the artist has chosen us as his exclusive representative for signed and numbered original prints. Also new: "Faux Snow" — a seasonal salute to climate change by camera during the Victorian era. And while we're not visiting Paris, a few of our spirit photographs are making an appearance at the Maison européenne de la Photographie , in a superb exhibition of photographs of the occult, "La Troisieme Oeil" ("The Third Eye"). The exhibition travels to the Metropolitan Museum of Art in September .

April 2004 — "Cross-Cultural Camera: How Photography Bridged East and West" opens, on the 150th Anniversary of the Treaty that opened Japan to trade and diplomatic relations with the United States.

December 2003–We're honored to provide images on loan to the International Center of Photography in New York for inclusion in the exhibition, Only Skin Deep: Changing Visions of the American Self. An illustrated book published by Abrams accompanies the exhibition and can be viewed by clicking here.

March 2003–A new exhibition in our series devoted to the development of "Special Effects" and manipulated photography opens. "Seeing Double: Creating Clones With A Camera" demonstrates how one person can be in two places at the same time!

December 2002 –To enable picture researchers (and the general public) to browse through more of our affiliated Collection, we've just added hundreds of new photographs to this website. Our Online Image Archive pages have no text and are not organized or presented in the same format as our exhibitions–although many will be used in future shows. Because the pages have up to 35 images each, they are best viewed through a broadband connection. Click here to enter the Online Image Archive through a new browser window. (Or note the starting page address: http://www.photographymuseum.com/archive/imagearchive1 )

May 2002– Selections is a window into the Collection –a parade of images including many never before shown in public. We've just completely updated this exhibition with new images!

January 2002 — The American Museum of Photography is pleased to open a second gallery of lyrical black-and-white images by Shotaro Shimomura. Since its online opening nearly four years ago, "An Eye for the World" has been among our most popular exhibits. The new addition doubles the number of images on view from this remarkable collection.

December 2001– Spirit photographs from the Museum 's affiliated collection are published in The Independent (London) on Sunday Review (Dec. 23 issue, with text by Matthew Sweet) ; another appears on the cover of the December 22-29 issue of the British Medical Journal. And you'll see a different image from our spirit photography exhibit, "Do You Believe?" on the cover of a new book from Cornell University Press, "Ghostwriting Modernism."

May 2001– The Museum presents SCOTT MUTTER: A MORE PERFECT WORLD. We've known and enjoyed Scott's photomontage works for more than 25 years, and are very pleased that the photographer has chosen our site for the only authorized exhibition of his images on the Internet. For this exhibit, we have added special message boards to encourage visitors to share their thoughts. And we've arranged with Scott Mutter to offer individually artist-signed posters of his most popular images.

February 2001 — "THE FACE OF SLAVERY & Other Early Images of African Americans" opens. This selection of rare images offers glimpses into half a century of history, and helps to document changing cultural perspectives on African Americans.

January 2001 –The American Museum of Photography is proud to receive Four Stars from iReview, the internet guide on Apple computer's website. And we're very pleased to have been chosen as a Pick of the Year by Yahoo! Asia.

October 20, 2000 through November 15 — We're pleased to be participating in the exhibition "AMERICAN REFLECTIONS: PHOTOGRAPHY BEFORE THE CIVIL WAR" — more than 200 daguerreotypes and ambrotypes on view at Henry Ford Museum, Dearborn Michigan.

October 15 — The American Museum of Photography invites you to visit our newest exhibition, "Do You Believe?" — three galleries of spirit photography.

June 2000–The Museum marks its fourth anniversary online with a new exhibition: "Did You Ever Have A Dream Like This?" It's the first installment of our exhibit series devoted to "Special Effects."

January 2000– The American Museum of Photography starts the new millennium with the "Best of the Best" Award from Access, the largest-circulation Internet magazine.

December 1999– "Photography as a Fine ARF!" opens.

August 1999–"The Daguerreotypes of Southworth & Hawes" opens.

3/29/99 The American Museum of Photography is proud to announce its selection as a "World Best Website" Gold Award winner.

2/12–2/18/99 The American Museum of Photography is featured on c|net's TV.COM , broadcast nationally.

1/4/99 The American Museum of Photography is selected as a Yahoo! Pick of the Year! Thanks, Yahoo!
 
What's Next?

Our current projects include two books: Photographic Fictions: How the Camera Learned to Lie brings together images from a number of our exhibitions to tell the fascinating story of manipulated photography. Our Remarkable Family is a family album of photocollages and stories based on the works of the mysterious Mary Wright.

Museum Director Bill Becker is also working on Seize the Light!, a multi-part television series on the history of photography, currently in development.

Let us hear your ideas and suggestions— click here for eMail.
 

Sponsorship Opportunities

The American Museum of Photography is growing… adding new exhibitions, new features, and reaching an expanding audience.

The Museum welcomes support from individuals and organizations. Sponsorships are available for exhibitions or featured pages of the site. Funds are especially needed at this time for research support .

Click here to drop our Director an eMail for more information on sponsorship. Please include your name and phone number .

Individual contributions of $2 — $50 may be made online through the Amazon Honor System. Click here for this quick and easy way to support this site.

 

The American Museum of Photography has been honored with these awards:

( Our fourth USA Today Hot Site Award)

 

Yahoo! Asia Pick of the Year 2001

 

Internet Medaille d'Or (2000)

 

Yahoo! Pick of the Year (1999)

World Best Website Gold Award

About.com "Best of the Net"

(Best Rating) from Infoseek

(Top Rating) from ACCESS Internet Magazine ("Large, quick-loading images, great resources and clean design could almost make you forget that you're visiting this museum online…")
 
 


"Wonderful showing! This is a prime example of how the web can bring out interesting artifacts, seen by very few people, to the public at large."

"Loved it ("Photography as a Fine ARF!") And here I was – thinking that William Wegman was the only one out there pursuing this. But…..it was delightful then and Wegman's work is delightful now. I suppose all us modern photographers do is really re-work ideas and inspirations. But that's okay because we still have a voice! Many thanks for placing such charm on the www."

"What a delightful museum…engrossing…an honorable example of the preservation of history."

"WOW!  I feel like I'm there, on the 57th Street, moving down the street, when I look at that photo  [in "An Eye for the World"]– it is my favorite because it really draws me into the moment as a participant.  Really good passages in books do this for me – I create the scene in my mind vividly.  But only rarely does a photo have this strong an effect on me. 


"That was absolutely wonderful !  Cheered me up for the day !"

"Thank you for putting together a fresh exhibition of historic architectural photographs ["Of Bricks & Light"].  As a professional architectural photographer specializing in historic resources, I have developed a sincere appreciation for the work of early documentarians… I stand in awe of some of these incredibly powerful messages from the past.  I appreciate your efforts to curate this selection of fine photographs."

 "Very beautiful and informative site, a reminder of my travels, my own work, and what is yet to come.  That is one of the great features of the internet, to be exposed to information and images you had no idea existed! Thanks, and I'll be back."

"A beautiful exhibit. As a photographer for the past 65 years (as a hobby!), I am happy to be pointed to this web site. Keep up the good pix! "

"After working day after day in the world of sterile modern stock and corporate photos it is such a delight to visit a site so filled with the joy of photography! More!"

 

Our thanks to everyone who visited… and to everyone who left a comment!

 

Click on the Logo to Visit the Museum's Home Page

---

Copyright (C) MMVI The American Photography Museum, Inc.

"American Museum of Photography" and the logo are Service Marks of The American Photography Museum, Inc.