Cross-cultural Camera: How Photography Helped Bridge East & West – American Museum of Photography Online Exhibition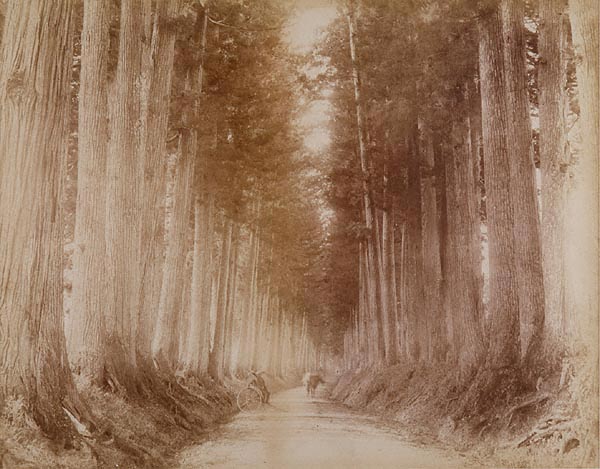 Attributed to Charles Leander Weed (U.S., 1824-1903)

Giant Cedars at Nikko, Japan

Mammoth-plate salt print, circa 1860

17 x 21.5 inches
This mammoth-plate image of the majestic trees at the entrance to the famed shrine at Nikko must be among the very first photographs on paper made in Japan. Only Carleton E. Watkins and C. L. Weed are known to have made salt prints from negatives so large, and both quickly switched to albumen paper for their prints. Weed made the first mammoth-plate images of Yosemite in 1859. The following year, he was sent to Asia to make negatives for his employer, the California photographer Robert H. Vance.
Vance was an entrepreneur who intended to publish Weed's photographs in the United States; he may have been encouraged in this enterprise by the recent treaty of friendship and commerce between the U.S. and Japan. (A newspaper in San Francisco urged Californians to take advantage of new trade opportunities in China and Japan, advising "The pear is nearly ripe and it should be plucked before it falls into the lap of some other nation.") Weed and two associates were dispatched to open a gallery in Hong Kong in the fall of 1860.
No other mammoth-plate salt print of Japan is known.
Attributed to C. L. Weed by the late Peter Palmquist, author of "California's Peripatetic Photographer, Charles Leander Weed," California History, vol. 58, no. 3, 1979.
---

Copyright © 1989, 2004 The American Photography Museum, Inc. All Rights Reserved.

American Museum of Photography and the logo are Service Marks of The American Photography Museum, Inc.

Web Design: Becker Information Group, LLC