Cross-cultural Camera: How Photography Helped Bridge East & West – American Museum of Photography Online Exhibition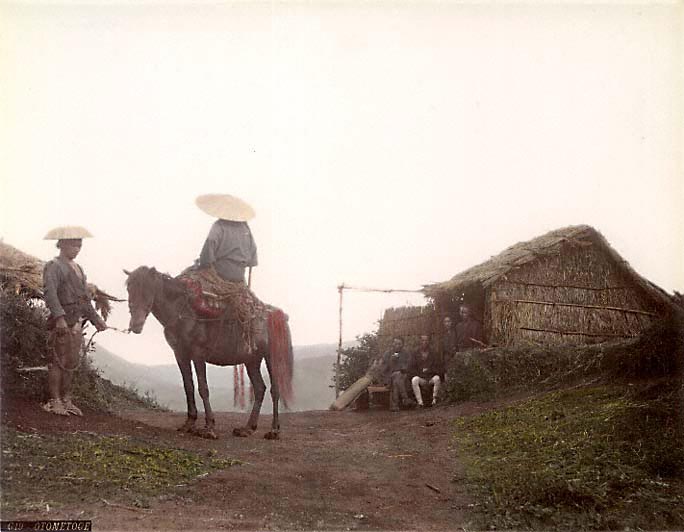 Unidentified Photographer, possibly Adolfo Farsari (Italian-American, 1841-1898, active Yokohama)

"Otonetoge"

Tinted albumen print, circa 1880
There are two mountain passes in Japan named Otome-toge (Pass of the Maiden or Pass of the Virgin). One is located near Tsuwano in Shimane prefecture and is now the site of a Catholic chapel, marking a place of persecution where 36 Japanese Christians were killed between 1868 and 1871. This placid scene, however, was taken hundreds of miles away, in the city of Gotemba. The location is considered one of the three best places for viewing Mt. Fuji, although clouds and fog can sometimes obscure the famous mountain. (The spelling "Otonetoge" in the negative title strip appears to be a typo.)
The photographer Adolfo Farsari was born in the town of Vicenza, then part of Austria-Hungary. An ardent opponent of slavery, he traveled to America in 1863, enlisting in the Union army as a cavalry soldier during the Civil War. He moved to Japan in 1873 and later entered the photography business in Yokohama. In the 1880s, he purchased the Japan Photographic Association from Baron von Stillfried — acquiring negatives made by the Baron as well as those made by Felice Beato two decades earlier.
The exquisite naturalistic coloring of this photograph is exceptional. The British writer Rudyard Kipling noted this aspect of Farsari's work in 1889 when he advised his readers,
Though expensive and perhaps you end up penniless, unless you are already penniless, in Japan you have to buy photographs and the best are from the Farsari & Co. studio, known from Saigon to America. Farsari is a nice and eccentric chap; he has the soul of an artist and these are qualities to pay for but his stuff is worth the price. A coloured photo makes you think of a horror and it normally is so, however Farsari knows how to colour well and can reproduce the light tones of that beautiful country. From over the bridge on the ship I was laughing at his red and blue hills but once I reached there I realized that what he had painted was real…
At one time, Farsari employed forty colorists whom he trained in his own method of hand-tinting photographs. His business survived two disastrous fires in the 1880s, in which many earlier negatives were lost. He returned to Italy in 1890.
 

---

Domo Arrigato to Jim Cork for information on the two Oto-metoges!

Kipling quotation and some biographical information courtesy Generoso d'Agnese, online at http://www.utopia-news.co.uk/e/jan2002/10.htm

---

Copyright © 2002, 2004 The American Photography Museum, Inc. All Rights Reserved.

American Museum of Photography and the logo are Service Marks of The American Photography Museum, Inc.

Web Design: Becker Information Group, LLC