"Do You Believe?" Spirit Photographs from the American Museum of Photography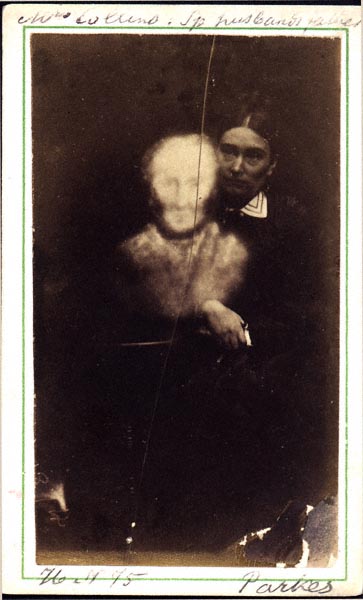 F. M. Parkes (England)
"Mrs. Collins & Her Husband's Father, Recognized by Several."
Albumen carte de visite, 2 x 3.8 inches
1875
Parkes was one of the first spirit photographers in Britain, beginning his work in 1872, the same year as Frederick Hudson. His earliest images were made in partnership with the proprietor of a restaurant, who served as medium. Following directions from the spirits, Parkes required that photographic plates be placed in his control in the darkroom before they were inserted in the camera–so they could be "magnetised." If that aroused suspicions, Parkes tried to compensate by cutting a hole in his darkroom wall so that his patrons could witness the processing of the negative.

The vertical line running through this photograph is caused by a break in the glass negative. Perhaps this was intended as a visual distraction, or served as evidence of paranormal vibrations.

Mrs. Collins' husband was an amateur photographer, who wrote a letter to the spiritualist journal Human Nature in which he hedges a little on the accuracy of this spirit likeness of his father (click here for the text). Judging by appearances alone, the late Mr. Collins could have served as the model for the Edvard Munch painting The Scream.

Bibliography

A note on the back of this photograph makes reference to an article by M. A. Oxon in the journal Human Nature for April, 1875 (see text below).   "M. A. Oxon" was the pseudonym of William Stainton Moses (1813-1892), an Anglican minister and teacher who was a noted English medium.

 

Cyril Permutt, Beyond the Spectrum, A Survey of Supernormal Photography (Cambridge: Patrick Stevens, Ltd., 1983). p. 18.

 
---

 

 

Mr. Collins, of Woolwich, favours me with the following letter:-

17 Thomas Street, Woolwich, Feb. 4th, 1875.

Dear Sir.- Your letter of the 2nd inst. received. With regard to sending you a letter that you may print in Human Nature relative to recognised spirit photographs, I must tell you that I occupy a peculiar position. Although I have sat to Mr. Parkes, and obtained good results, I have failed to recognise any of the spirits, though on magnetising the camera when personal friends or relations have sat (in point of fact lending my power for the time), one or two spirits have presented themselves that I could unmistakeably recognise. Notably one of my father-in-law, for which my mother-in-law sat, I magnetising the camera. My wife obtained a tolerably clear photograph of (it is supposed) my father, and although it certainly is very like, there are one or two discrepancies which do not justify my coming to a fixed conclusion on the point. With regard to the particular conditions under which these photos. were taken, I can give you no information, as I never had any idea that my evidence on the point would be of any value to you. Suffice it to say, that when I first sat, I had a very strong doubt as to the power of departed souls to affect a sensitised plate, and took every precaution I could think of, not only to prevent trickery, but, if possible, to suggest any other scientific cause as to their presence on the glass. Being a photographer en amateur myself, I could, and did, suggest tests, that were complied with, and which certainly convinced me that as far as I could see there was no attempt at delusion.

I must say that I consider spirit photography the most interesting and truthful manifestation we have yet been blessed with.-I am, &c.,

JAMES COLLINS.

Source: Stainton Moses ["M.A. Oxon"], "Researches in Spiritualism. By M. A. Oxon. Spirit Photography-Chapter IV-(Continued). Mr. Parkes," Human Nature: A Monthly Journal of Zoistic Science (London) April 1875: 149-150. Transcription courtesy John Buescher.

---

Copyright © 2000 The American Photography Museum, Inc. All Rights Reserved. American Museum of Photography and the logo are Service Marks of The American Photography Museum, Inc.