The Final Copies of "Photography's Beginnings"
A SPECIAL OFFER FROM THE AMERICAN MUSEUM OF PHOTOGRAPHY BOOK STORE
THE FINAL COPIES AVAILABLE!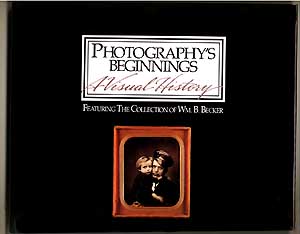 FIRST PUBLISHED TO MARK THE 150th ANNIVERSARY OF PHOTOGRAPHY, PHOTOGRAPHY'S BEGINNINGS: A VISUAL HISTORY _quickly found its way into libraries, museums–and onto quite a few coffee tables, as well. The small first printing of hardcovers sold out in about a month–and University of New Mexico Press quickly ordered a second printing.

Out of print for more than five years now, PHOTOGRAPHY'S BEGINNINGS _has become a collector's item in its own right–with copies selling recently at a 25–35% premium over the original cover price–when a hardcover can be located.

You are invited to purchase one of the final author's copies–in brand-new condition–through this EXCLUSIVE offering.
–Click here for a look at what's inside the book—