Photography as a Fine ARF! —  American Museum of Photography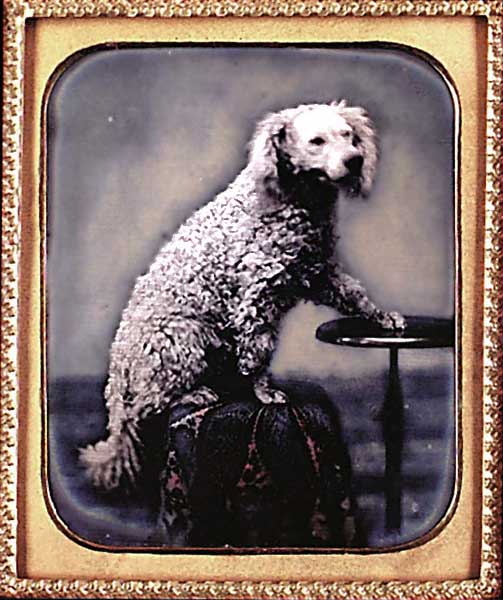 Bell & Clayton (Philadelphia): White Poodle
Sixth-plate daguerreotype with applied coloring, 1850s
Portrayed as if posing for a heroic statue, this poodle has one paw poised on a "Jenny Lind" adjustable table, one of the earliest studio props produced specifically for photographic studios. The exposure time for this daguerreotype was probably in the range of several seconds, requiring the canine sitter to hold the pose. The velvet cushion inside the case is embossed "Bell & Clayton 142 S.E. Cor. of Chestnut & Fifth St."

White Poodle was part of the collection of Sidney Strober, sold at auction in 1970. The catalogue entry for this image and a companion piece notes "If children were difficult to photograph because of the long exposure times required, animals were next to impossible. However, dedicated daguerreotypists with infinite patience did succeed now and then as these two portraits show."

Exhibited, "Secrets of the Dark Chamber: The Art of the American Daguerreotype," National Museum of American Art, Smithsonian Institution (1995)

---

---

Copyright © 1999 The American Photography Museum, Inc. All Rights Reserved.

American Museum of Photography and the logo are Service Marks of The American Photography Museum, Inc.