Inventing Modernism – Achille Quinet – Parc de Fontainebleau -American Museum of Photography

Inventing MODERNISM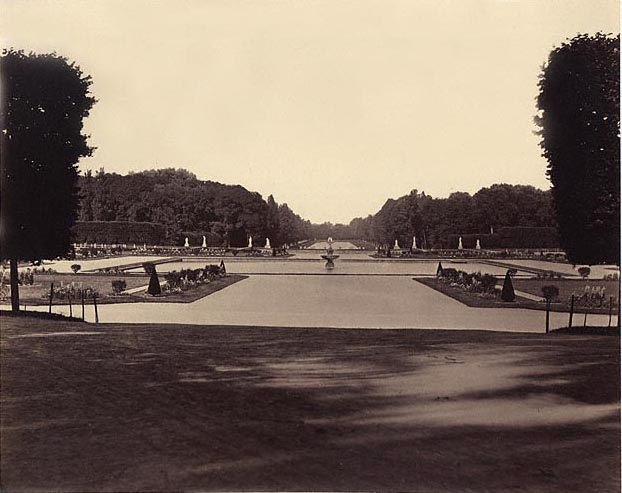 Achille Quinet (France, 1831-1900): Parc de Fontainebleau
Albumen print, 7.25 x 9.5 inches, circa 1868
The near-perfect symmetry of this elaborate garden is broken by a seemingly random patch of light in the foreground. Quinet could have easily changed his composition to eliminate this pattern of light, or he could have waited until the direction of the sun changed, but he did not. This deliberate choice sets the photograph apart from the usual tourist-trade pictures taken in the same spot. Quinet has captured a fleeting moment.

Quinet was praised for his handling of light in a series of images of the French countryside:

In response to those who refuse to accept photography as an artistic expression, M. Quinet, selecting the simplest of subjects–a corner of woods or hedgerows, a fine river view, etc.–choosing his hour of light, and portraying with great finesse a sense of light even among the spot shadows, has produced photographs decidedly deserving of the term "artistic studies."

–Alphonse Davanne, Bulletin de la Societe française de photographie, 1876  

An American art critic later compared landscapes made by accomplished painters and those produced by the emerging "advanced" photographers. He explained that a successful landscape composition must be a "synthesis" between the actual subject being recorded and the aesthetic impression the artist is attempting to express:

The painter obtains his synthesis by elimination of the unessential and massing of the important features. The photographic artist does practically the same. He studies the landscape until he has found the point of view from which it most impresses him; then he discovers the time of day and the atmospheric conditions most conducive to the impression he wishes to record. Perhaps he selects the moment when a broad shadow or a flood of light stretches across the foreground, with the effect of unifying it…

–Charles H. Caffin, Photography as a Fine Art

Caffin's comment was published in 1901, about thirty years after Quinet photographed Parc de Fontainebleau.
---

Copyright © MMIX The American Photography Museum, Inc. All Rights Reserved.

"American Museum of Photography" and the logo are Service Marks of The American Photography Museum, Inc.