"Did You Ever Have A Dream Like This?" Fantasy Photographs by W. H. Martin — American Museum of Photography(SM)

---
"Did You Ever Have
A Dream Like This?"
---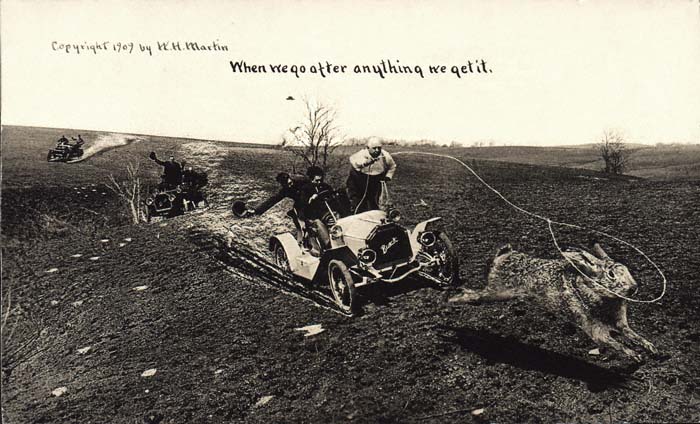 "When We Go After Anything We Get It."
William H. Martin (1865-1940) Ottawa, Kansas
Silver Print postcard, 3.5 x 5.5 inches, 1909
One of the most animated of Martin's photomontages, this rollicking rabbit rodeo is convincing because of its attention to detail. The sketched-in ruts beneath the car and the shadow under the humongous hare add an extra dimension of realism. In the sky to the left of the tree is a tiny flying object that appears to be a hat, carried off by the wind.

 
---
<"A Dream Like This" Gallery ………………………………Next Image >
---
(Click on the logo to visit the Museum's Home Page)
 

---

---
Copyright © 2000 The American Photography Museum, Inc. All Rights Reserved.
American Museum of Photography and the logo are Service Marks of The American Photography Museum, Inc.