America's First Masters of Photography: Southworth & Hawes
| | |
| --- | --- |
| | |
The Feigenbaum Collection of Southworth & Hawes
An Auction Report
---
Photographs by Nicholas M. Graver
---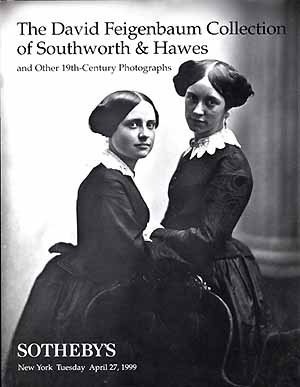 ---
Not since the landmark sale of the Sidney Strober collection in 1970 has an auction galvanized the photographic community like the one Sotheby's held in New York April 27.
The Strober sale (which I attended while still in my teens) coalesced a small number of collectors from around the country into something of a community. The wealth of material on the block attracted old-school collectors who'd been buying since the Great Depression and neophytes who'd never purchased anything at auction. Suddenly, we found we weren't alone in our appreciation for daguerreotypes or salt prints or Civil War photography–we had soul-mates. Yes–and competitors.
The Sotheby's sale–just shy of 30 years later–was marked by a buzz of excitement and a gathering of collectors and dealers both well-known and reclusive. All of us were drawn by the magnetic power of Southworth & Hawes– a partnership of Bostonians that produced many of the most memorable images from the first years of photography. Southworth & Hawes worked exclusively in the daguerreotype process during the 1840s and 1850s. Their groundbreaking images elevated photographic portraiture to the level of fine art and figure prominently in every important book and collection devoted to early photography in America.
In a field where collectors easily become jaded, the 240 Southworth & Hawes daguerreotypes in the auction created a sensation on a number of counts. First, they were unknown pieces fresh to the market. The entire collection was recently discovered in Marblehead, Massachusetts in the basement of the late David Feigenbaum, who purchased them in the 1930s and apparently showed them to nobody for nearly 70 years.
| | |
| --- | --- |
| Collector and historian Marilyn Graver examines a whole-plate of the 19th Century social reformer Dorothea Dix at the auction preview. She was the highest bidder for this rare celebrity portrait. | |
Secondly, the daguerreotypes apparently came directly from the studio archives preserved by Josiah Johnson Hawes until his death in 1901. That's the same source as the Southworth & Hawes daguerreotypes at the Metropolitan Museum of Art, in the collection of George Eastman House, and at Boston's Museum of Fine Arts.
A third factor contributing to the excitement was that a number of the offerings were close variants of famous Southworth & Hawes images in museum collections. A few, like an evocative interior of a Boston schoolhouse bathed in natural light, were separated from mates in those institutional collections. If the two images of such a pair were to be combined, they could be viewed in breathtaking 3-D…an experience as close as we can get to actually traveling back in time to the 1850s.
Finally, no major group of Southworth & Hawes images has ever been offered at public auction. Until now most of these rarities changed hands privately, one at a time.
| | |
| --- | --- |
| | Sotheby's Photography Specialist Denise Bethel, all smiles beside a case displaying whole-plate daguerreotype scenes by Southworth & Hawes. |
After several weeks of intense rumors, the sale was announced in February with catalogues going out about three weeks in advance of the auction. There were major articles about the collection in the New York Times and the Wall Street Journal. By the time the preview showing opened, the weekend before the auction, the "buzz" was so intense that it felt like a reprise of the Jackie O sale.
When the gavel began to fall, it became instantly clear that this was not mere hype. Only one lot in the sale failed to sell–but that lot did not contain daguerreotypes. Every single one of the 240 Southworth & Hawes daguerreotypes found a new home–often after soaring in price far above the initial estimated range.
| | |
| --- | --- |
| Heads turn in the packed Sotheby's salesroom as bidding for a daguerreotype of a sleeping infant Edward Hawes escalates past $200,000 | |
 A few highlights:
A superb and perhaps unique whole-plate (6.5 x 8.5 inches) view of clouds in the sky over a Boston rooftop. Estimated at $100,000-150,000, it sold for $354,500 with buyer's premium, smashing the old record for a daguerreotype at auction. Reports indicate it was purchased by a collector who has previously concentrated on important modernist images.
Two very personal images of Josiah Hawes' son Edward as a baby, asleep. Also in the prized whole-plate size, the first version brought $68,500, the second $217,000 (compared to a pre-sale estimate of $50-70,000 each)
The cover lot, a striking whole plate view of two women. Estimated at $50,000 to $70,000, this image eclipsed the price record established just a few minutes before by the cloud study, bringing $387,500. Rumors circulated about the identity of the purchaser, but in August of 2001 The Amon Carter Museum of Ft. Worth, Texas revealed that it had acquired this image — as well as one of the portraits of the sleeping Edward Hawes.
The cover lot did more than establish a price record: it showed that the very highest price in a major daguerreotype sale could go not to a gold-mining scene or rare subject like a native American, but to a simple and exquisite portrait. Asked about this, Sotheby's photography expert Denise Bethel noted, "It was a record… for aesthetics."
Within minutes of the sale's end, and for weeks after, a whole range of secondary transactions began taking shape. Many of these involved the group lots, dealer-friendly assortments containing up to 40 Southworth & Hawes daguerreotypes each. The group lots included whole plates or other significant pieces, such as stereo-daguerreotype portraits (there were nine in this sale; until now, only one Southworth & Hawes stereo daguerreotype was known to be in private hands). But only one piece from each group was shown in the catalogue.
The treasures in these lots did not escape notice. A grouping of seven post-mortem and death-related images tripled the high estimate of $5000 (selling to dealer Michael Lehr for $17,250 with premium). Gallery owner Janos Novomeszky took home the much-discussed lot 12, containing portraits of people with plants and an astonishing study of a frost pattern on a window. The hammer price: $27,000, against a top estimate of $6000.
With the group lots pushing into the price range of luxury cars, many collectors of modest means found themselves leaving the sale empty-handed, and scrambling to purchase an example or two on the secondary market. Some got their chance on the internet: a few pieces have turned up at an online auction, as have a number of daguerreotypes from the Feigenbaum Collection that were NOT taken by Southworth & Hawes. Most of the significant secondary sales have been private, however, with one dealer reporting he paid "nearly six figures" for a whole plate that fetched around $50,000 at the auction.
When the figures were added up, the total paid to Sotheby's for these basement treasures was $3.3 million dollars–about double the midpoint of the pre-sale estimates.
How did it happen? Sotheby's photography expert Denise Bethel, assisted by Chris Mahoney, recognized this as a very rare opportunity and made the most of it. They produced a well-researched catalogue and staged a symposium 24 hours prior to the auction. A crowd estimated at 200 packed the salesroom to hear daguerreotype experts Grant Romer, Sally Pierce, and John Wood discuss the collection and Southworth & Hawes. The preview offered ample opportunities to see and handle a wide range of material by this famous studio–a rare experience in itself.
For those privileged to attend–and especially those fortunate enough to acquire an image or two–there was a feeling of history being made, as well as history being purchased.
Just as there was at the Strober sale… way back in 1970.
–Wm. B. Becker
This article first appeared in The Photograph Collector
and was reprinted in The Daguerreian Society Newsletter,
Vol. 11 No. 3 (May/June 1999)
updated: October 2001

---
Auction photographs Copyright © 1999 Nicholas M. Graver. Used by permission.
Copyright © 1999, 2001 The American Photography Museum, Inc. All Rights Reserved