Photography as a Fine ARF! —  American Museum of Photography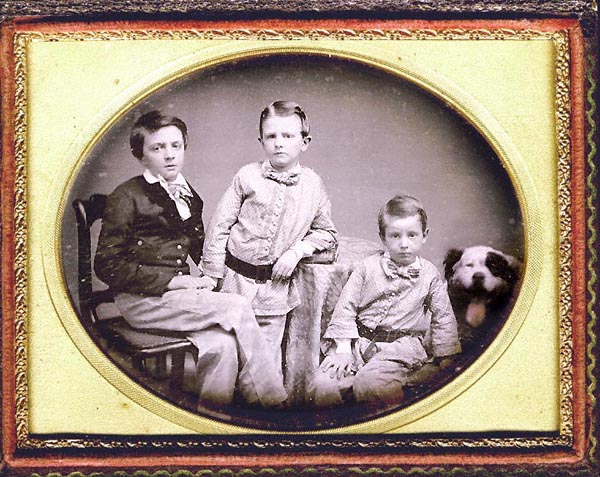 J.E. Carpenter (LeRoy, New York): Three Boys and a Dog
Quarter-plate daguerreotype (3.25 x 4.25 inches), lightly tinted. August 27, 1854

Brass mat stamped "J E Carpenter" (not visible in the photograph above). Pencil notation inside case: "Taken by Carpenter & Cole LeRoy, Aug 27 '54 "

A masterful composition, this group is carefully arranged to draw the viewer's eye first to the left of the image, where the oldest boy's dark coat stands out in contrast to the rest of the picture. From there, the eye moves to the right…until we notice the fourth and final member of the group. It's almost as if the daguerreotypist was trying to set up a joke… leading us in stages to the punch-line.

Three Boys and a Dog was formerly in the William Rubel Collection.

---

---

Copyright © 1999, 2003 The American Photography Museum, Inc. All Rights Reserved.

American Museum of Photography and the logo are Service Marks of The American Photography Museum, Inc.