"Did You Ever Have A Dream Like This?" Fantasy Photographs by W. H. Martin — American Museum of Photography(SM)

"Did You Ever Have
A Dream Like This?"
---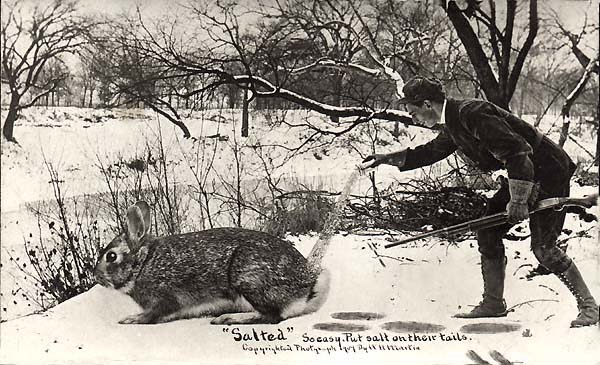 "'Salted.' So easy. Put salt on their tails."  
William H. Martin (1865-1940)
Silver Print postcard, 3.5 x 5.5 inches, 1909
Martin's subjects are a reminder that America was still largely a rural society early in the 20th century. Rural humor also comprised an important segment of the early recordings made at this time: a "hayseed comedian" named Cal Stewart became a star with his monologues recounting the adventures of a farmer named Uncle Josh and his cronies from the mythical town of Punkin Center.

 
---
<"A Dream Like This" Gallery ………………………. Next Image>
---
(Click on the logo to visit the Museum's Home Page)
 

---

---
Copyright © 2000 The American Photography Museum, Inc. All Rights Reserved.
American Museum of Photography and the logo are Service Marks of The American Photography Museum, Inc.