Science vs. Seance: A Gallery of Spirit Photography from The American Museum of Photography(SM)
 
 

The abortive trial of William H. Mumler in 1872 was the start of a decades-long battle between Science and the Séance. In the United States, Britain and France, spiritualists were investigated by expert commissions and spirit photographers were sometimes prosecuted for fraud.

Well into the 20th century, spirit photography had high-profile supporters–including the physicist Sir William Crookes and the creator of Sherlock Holmes, Sir Arthur Conan Doyle. Many of the photographs in this exhibition were made under test conditions thought to rule out possible fraudulent acts.

But the skeptics took their toll. Led by the great illusionist Harry Houdini, investigators unmasked spirit mediums, revealing many of their "manifestations" to be nothing more than cynical tricks and sleight-of-hand.

And yet– there are people who still believe. Some cling to the hope of contacting a departed relative. Others buy books purporting to show modern-day photographs of ghosts. Television "documentaries" claim to reveal contemporary cases of hauntings. A young film actor whispers "I see dead people" and millions feel a chill go up their spines.

Many of the images presented here have been studied and debated for nearly a century. Whether they are ludicrous or miraculous is in the eye of the beholder.

Do you believe?
For Additional Text and Larger Images, Click on Any Photograph or Title Below
Fast Internet Connection? Click Here.
William Eglinton (England)

Mary Burchett with Spirit of her School-Master

Albumen cabinet card, 3.5 x 4.5 inches

December 9, 1886

"Taken in my room with my own camera and plates by Mr. Eglinton and developed directly afterward in my presence."

Edward Wyllie (American; born India 1848, died London, 1911)

J. R. Mercer with Spirits of his First Wife and Mother, a Spirit Message and Flowers from the Other Side

Silver-gelatine cabinet card, 3.75 x 4.75 inches

circa 1895

Edward Wyllie (American, 1848 –1911)  

Mr. Robert Whiteford, Professional Photographer of Rothesay, with "Extra"

Silver print cabinet card, 3.5 x 4.75 inches

October 7, 1909

Robert Boursnell (England)

Couple with the Spirit of an Old Family Doctor who Died Around 1880

Collodion print, 4 x 5.75 inches

January 3, 1893

Robert Boursnell (England)

Silver print cabinet card, 4 x 5.5 inches

March 9, 1902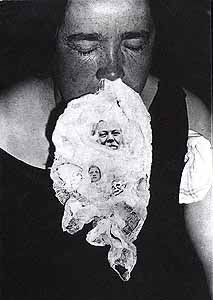 Dr. Thomas Glendenning Hamilton (Winnipeg, Manitoba, Canada, 1873-1935)
Conan Doyle's Return (enlarged detail)

Gelatin-silver print of unknown date from negative taken June 27, 1932

The great writer's spirit returns through the mediumship of Mrs. Mary Marshall–in a two-dimensional materialization. Doyle is seen in the upper portion of the "ectoplasm" shown exuding from the medium's nose.

Click on the image or title to view a full-frame version of the seance photograph that contains this detail.
---

The Museum gratefully acknowledges the research assistance of John Buescher (Washington, D.C.), Renae Satterley (Canada), Steven F. Joseph (Belgium), Gareth Winter (New Zealand) , Michael Pritchard (London) and Ross Becker (Texas).

---

Copyright © 2000 The American Photography Museum, Inc. All Rights Reserved.

"American Museum of Photography" and the logo are Service Marks of The American Photography Museum, Inc.