Selections from The American Museum of Photography (SM)
---
| | |
| --- | --- |
| | Selections |
---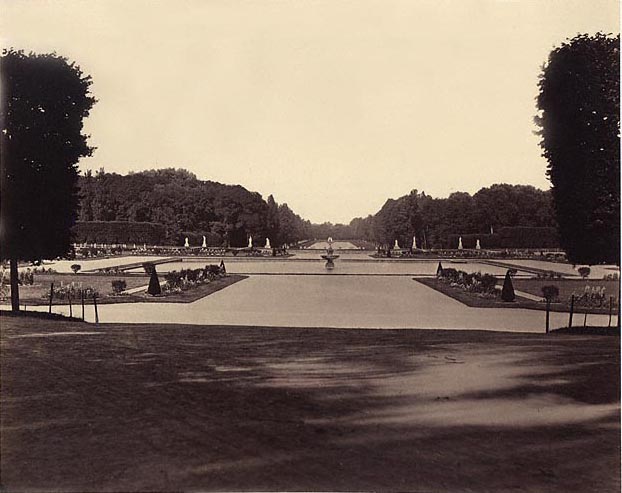 ---
Achille Quinet (France, 1831-1900): "Parc de Fontainebleau"
Albumen print, 7.25 x 9.5 inches, circa 1868
Located 50 km south of Paris, Fontainebleau was a favorite residence of French Kings and Napoleon I. The gardens were originally laid out during the reign of Francois I (1528-1547) with major revisions made between 1661 and 1664 by Andre le Notre, Chief Landscape Designer to Louis XIV.

Other nineteenth-century photographs of this scene were taken from a similar vantage point, but Quinet's image stands out from the rest. Here, the perfect symmetry of this elaborate garden is broken by a seemingly random patch of light in the foreground. Quinet could have easily changed his composition to eliminate this pattern of light, or he could have waited until the direction of the sun changed, but he did not. This deliberate choice sets the photograph apart from the usual tourist-trade pictures taken in the same spot.

Another photograph by Quinet appears in our online exhibition, "Masterworks of Photography." Click here to view it in a new window. 

 
Next Image

---

Copyright © 2002 The American Photography Museum, Inc. All Rights Reserved.

"American Museum of Photography" and the logo are Service Marks of The American Photography Museum, Inc.