An Eye for the World Main Gallery [ The American Museum of Photography™ ]

An Eye for the World
Photographs by Shotaro Shimomura 1934-1935
Shotaro Shimomura XXI (1883-1944) was Chairman of The Daimaru Inc., a department store chain that traces its roots to a single store opened in Kyoto in 1717. Mr. Shimomura was named President of the company in 1907 and toured Europe and the United States the following year to study the management of department stores. He took these photographs on a subsequent trip around the world in 1934 and 1935, prior to establishing a subsidiary trading company.

The remarkable photographs in this exhibition are from a set of 30 toned silver prints, some on textured paper. Each 6″ x 8″ photograph is protected by a tissue guard with its title in Japanese and English. The prints are housed in an elegant pawlonia wood box, carved with the photographer's initials. Mr. Shimomura presented these photographs to close friends and relatives upon his return. He also exhibited his work in the Ashiya Photo Salons of 1935, 1936 and 1937. Many years after the photographer's death, his images were featured in the art magazine Geijyutu Shinchou.

The photographs of Shotaro Shimomura combine the best elements of the Pictorialist and Modernist styles current in the 1930s. We are pleased to participate in the rediscovery of these important works.
Click on any photograph to examine a full-size version
Downtown Skyline of New York, U.S.A.

Magasin du Nord of Copenhagen, Denmark

R. H. Macy's From the Top of the

Empire State Building, New York, U.S.A.

A Small Village at the Lake of Lucerne, Switzerland

Roadside of Cairo, Egypt

Pavement at the Taj Mahal of Agra, India

Grammar School at Stratford on Avon, England

On the 57th St., New York, U.S.A.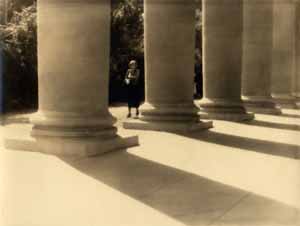 At the Golden Gate Park of San Francisco, USA
---
Click Here for Gallery Two of "An Eye for the World">>>
---
---
Click on the Museum Logo to return to our Home Page… or choose another destination below
---
Copyright © MMII  The American Photography Museum, Inc. All Rights Reserved.

American Museum of Photography and the logo are Service Marks of The American Photography Museum, Inc.